GEMPAR – MIC Hunger Protest – 100000 Crowd!
class="st_sharethis" displayText="Share">


by SK Durai
"PETALING JAYA: About 100 people are expected to stage a hunger strike tomorrow in Klang against the Selangor state government, accusing the latter of failing to address their grouses.

The hunger strike, which would commence from 11am till 5pm, would be spearheaded by the Klang Consumer Association supported by several former estate workers' families from Bukit Raja.

MIC Youth chief T Mohan would be also be present to receive a memorandum from the protesters who would gather at Tengku Kelana.

Speaking to FMT, Mohan said the hunger strike was being staged as the Pakatan Rakyat state government had failed to answer several issues affecting the Indian community."
Out of pure curiosity, I decided to go to Klang just to check out the above so called hunger protest. I reached Tengku Kelana around 12 pm and didn't see anything unusual going on. Around 12.30 pm , some MIC members started using their loudhailers to try and attract the crowd. Unfortunately, nobody was really bothering them, and they looked like a complete joke making a fool of themselves.
An information camp was set up nearby by MIC members, and I went close to the tents and started snapping some pictures. I seriously pity them, even the media was not there to do coverage. I saw some familiar MIC faces, and they immediately recognized me. I smiled at them, they did the same. MIC Youth leader, T. Mohan was also there.
Inside the tent, two guys claiming to be former Midlands Tamil school students, was sitting down holding a small placard accusing that Dr. Xavier and DS Anwar had cheated the Indians. Only the two guys sitting down below is staging the hunger strike, and a few guys took turn to bash PKR leaders nonstop claiming that PKR have cheated Indians.
At most the crowd was 30-40 people, which was seriously funny since MIC had been bombarding all around that they've gained the support of Indians. The guys who were speaking at the event was not interesting at all, their speech has got no real values other than repeating the same thing :
"Pakatan cheat Indians…"
"Anwar cheat Indians…"
"..Pakatan Cheat Indians…"
As I walked out of the place after eventually getting bored, I saw a group of Hindraf members gathering 100m away, I quickly walked and saw that they've also planned a small rally today, and Indians were fast gathering around them. With an estimated crowd of 200-300 combined with Urumee, they walked along towards 'Chetti' field, Klang.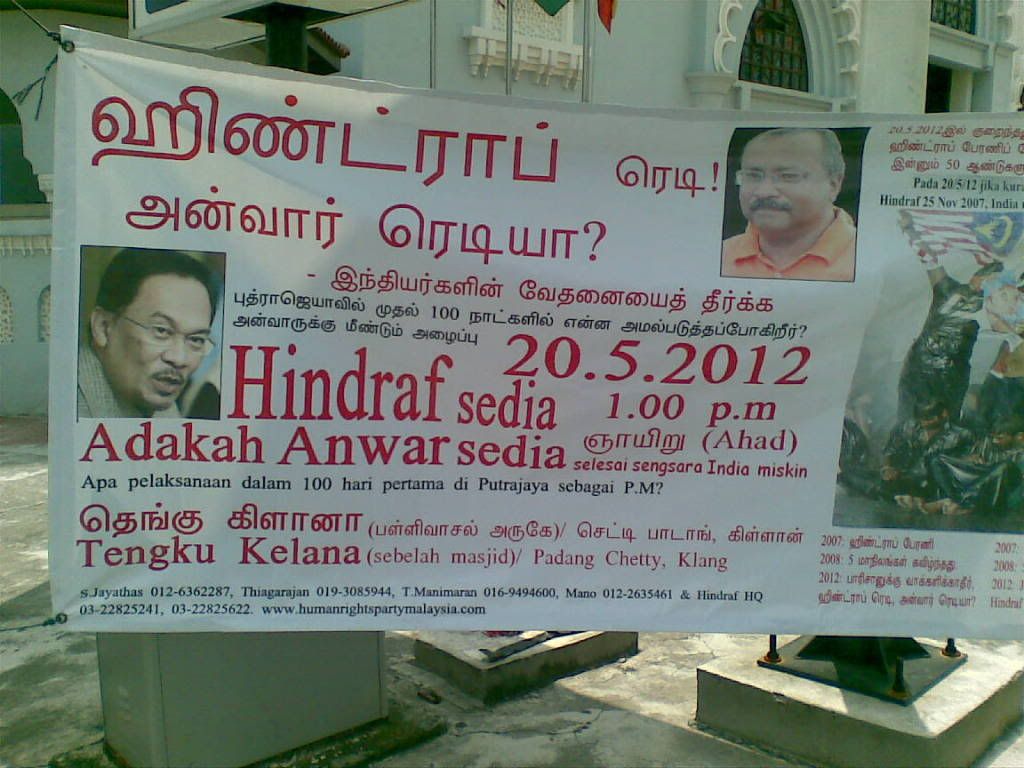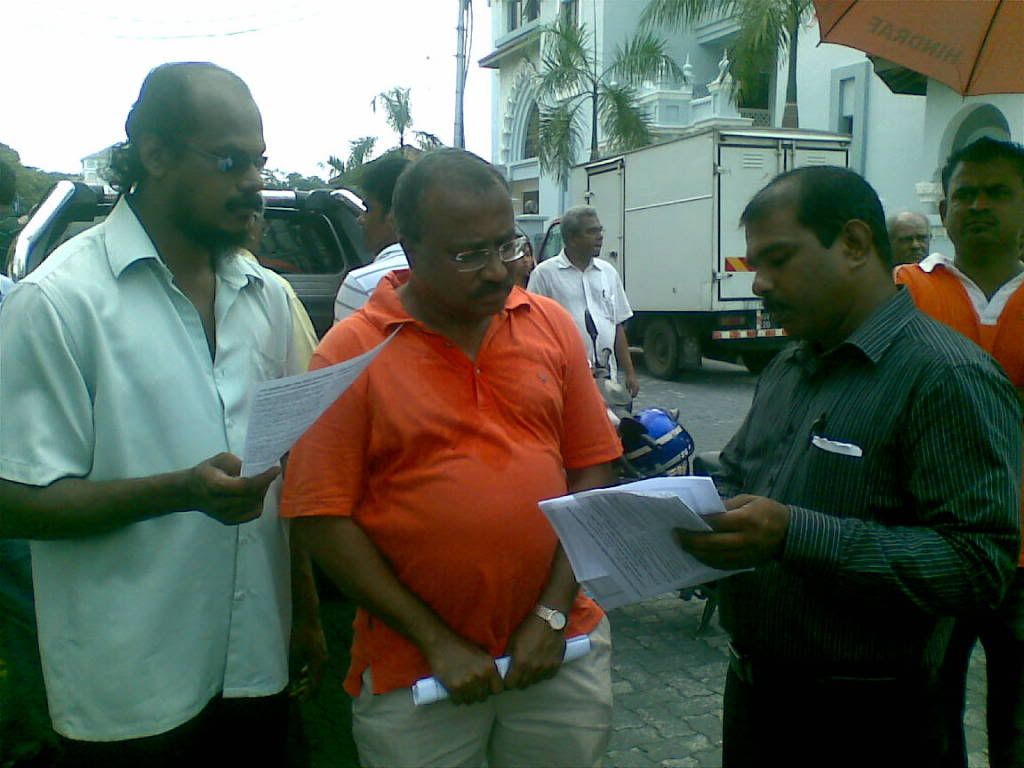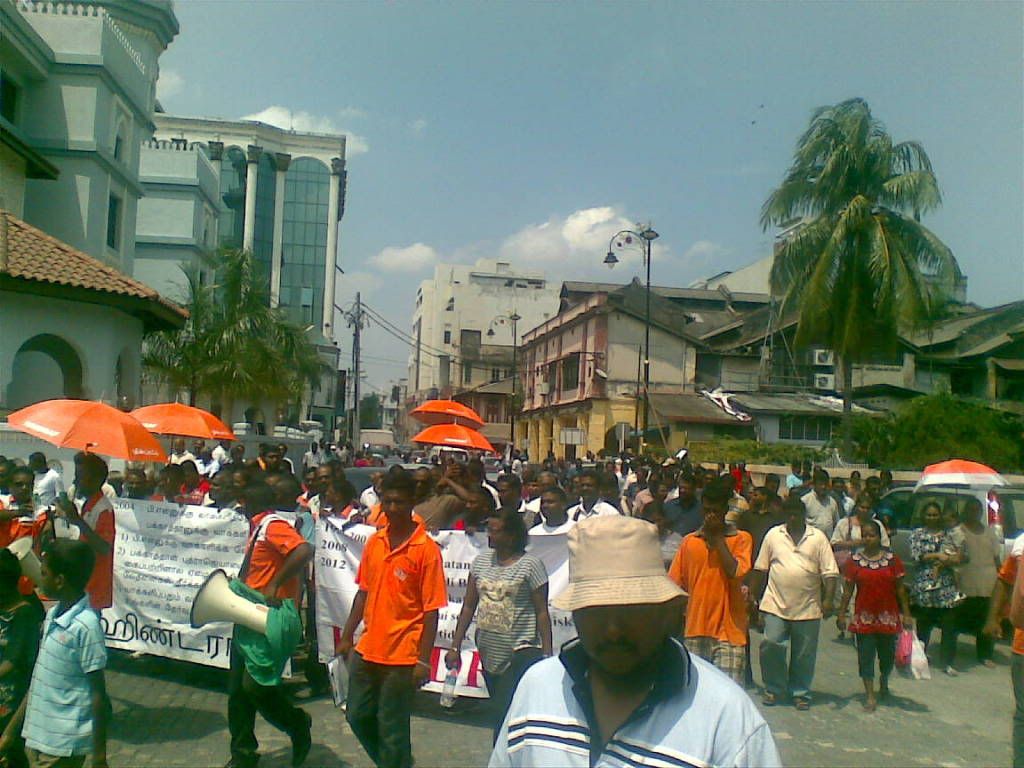 Uthayakumar led the group, and made clear in his speech that no Indians should vote for BN. The crowd seems to be agreeing with him, and almost all Indians know about Uthayakumar and his fight for the rights of poor Indians in Malaysia. Uthaya also mentioned that the reason for the rally was because he wants a written agreement from the opposition leaders that Indians will never be marginalized again.
Of the two small protest held today, I clearly saw a few things. MIC is too insignificant to be bothered anymore, and people know that these guys are a complete joke. Nobody is supporting their cause, and with heavy Indian crowd in Tengku Kelana today, none even bothered about the entire protest or paid any attention to this attention seeking whores.
While Hindraf, managed to get in a good crowd of Indians to stand in the burning hot sun listening to their speech and cause. Hindraf had led thousands of Indians to the streets in 2007, and Uthayakumar, can be considered one of the most influential figure and still command huge respect amongst the Indians.
By the time I left around 3.30 pm, I saw the tent occupying MIC members were empty. Perhaps went to minum teh tarik…
Hunger strike my ass…