GEMPAR ! MIC Mahu Tuhan Bantu Menang Election!!!
class="st_sharethis" displayText="Share">
SK Durai
Penulis sedang melayan setin Carlsberg sambil melayari Facebook apabila terbaca satu artikel yang cukup menarik perhatian penulis. Setelah habis membaca berita tersebut, penulis ketawa terbahak-bahak kerana sekali lagi parti politik India terbesar di Malaysia(sendiri claim besar) telah membuktikan mereka memang bengap.
Sila baca petikan berita sensasi ini:
"PETALING JAYA: While almost all political parties in the country are scrambling to capture the hearts and minds of voters, MIC, the largest Indian-based political party, seems to be hoping for divine intervention to weather the coming general election.

The party intends to erect an altar in the president's office at the MIC headquarters, and work is underway to construct a water fountain at the entrance of the building."The water fountain is supposed to bring good luck… it is claimed that the flowing water is good 'feng shui'. The altar is under the president's (G Palanivel) orders. He is a religious man," said a MIC leader,who declined to be named."

Meanwhile, FMT learnt that several MIC leaders have also resorted to seeing "bomoh" or witch- doctors to ensure they are given seats to contest under the BN banner at the coming general election.

"Although I have not witnessed it, people tell me that some leaders are holding prayers and rituals secretly outside the headquarters at night in the hope of being named as a candidate," said the leader.

"I have been in this party for a very long time and this is the first time I hear of leaders seeing bomoh. They have to work to win the hearts of the people instead of indulging in this," he added."
Siap sudah bina waterfall depan pejabat MIC? Kira feng shui tara cantik la…Tapi betui ka bina waterfall boleh menang election? Ini macam penulis mau cadangkan kepada Presiden Obama untuk bina satu waterfall depan Whitehouse.
Tidak lama lagi mungkin kita boleh melihat upacara pemujaan beramai ramai, keliling api 3 hari 3 malam sambil menjerit and memekik…
'nam bi kei! ..nam bi kei!! …nam bi kei!!!"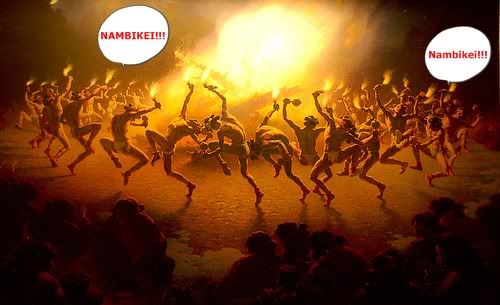 Penulis terus tak boleh layan beer apabila membaca berita tersebut. Penulis tidak pernah mendengar sesiapa yang menggunakan khidmat bomoh untuk menang election. Dan siapakah bomoh yang telah digunakan?
Adakah Swami Nithyananda? Penulis tertanya -tanya.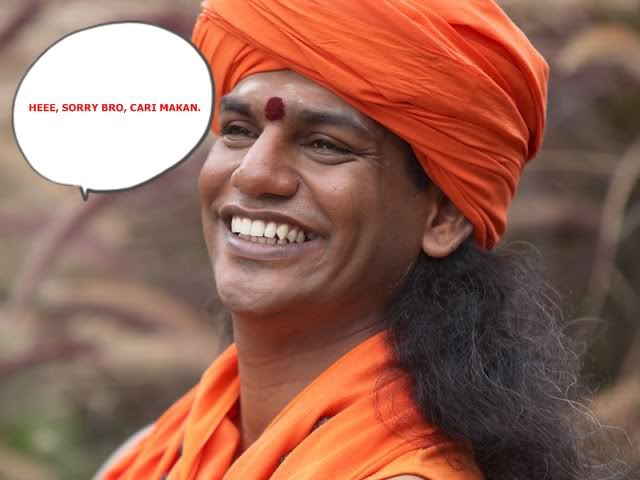 Penulis pun tak mahu cakap banyak la.
Kenapa selama 55 tahun orang India yang tidak diberi kepentingan tiba tiba diberi keistimewaan dan dilayan apabila pilihanraya semakin dekat? Kalau anda kena tipu lagi, anda memang bodoh. Tak payah nak sibuk sibuk tuduh orang lain sebab  orang India tak maju.
Fikir fikirkanlah…