Makan Di Bathroom
class="st_sharethis" displayText="Share">
SK Durai
During my school visits, I've seen many type of difficulties being faced by the school kids. Some of the schools are in a condition where they do not even have proper materials resorting them to study in a deplorable condition. Some of the more shocking cases are kids studying inhaling toxic wastes from nearby factories and eating in canteens infested with poisonous snakes.
These are the cases that I've personally seen. To this date, the kids are still studying in the same condition. All these cases are a norm in Tamil schools and Orang Asli schools. Neglected and denied proper facilities, the kids are studying in a condition I've only seen in countries like India and Cambodia.
Recently,
"A 12-year-old pupil from Batu Berendam, Melaka, lodged a police report yesterday alleging that her disciplinary teacher had called her a prostitute after mistakenly blaming her to be part of a group that had made noise and created trouble for another teacher."
Look at how we've progressed so far. Teacher calling a kid; slut.
And previously we've had cases teacher calling a kid, Keling. And many other cases. Last year, during a visit to a school in Perak, I saw kids eating nearby drain because they do not have a proper canteen. I thought that was the worst thing I had seen…
Today, I saw a number of pictures posted by a mother of a kid who claimed that her school children's are eating nearby toilets during their break time. When I browsed through the pictures, I was beyond shocked. Never had in my life I've seen school kids being placed inside a bathroom to consume their meals.
How can someone be so fucking dumb to put these kids in bathroom for their break? The bathroom is located beside the toilet. Will you be able to eat where you shit? The school headmaster, obviously an adult; must be really insensitive and freaking stupid to give such an instruction. How can the rest of the teachers in the school ignore such an act?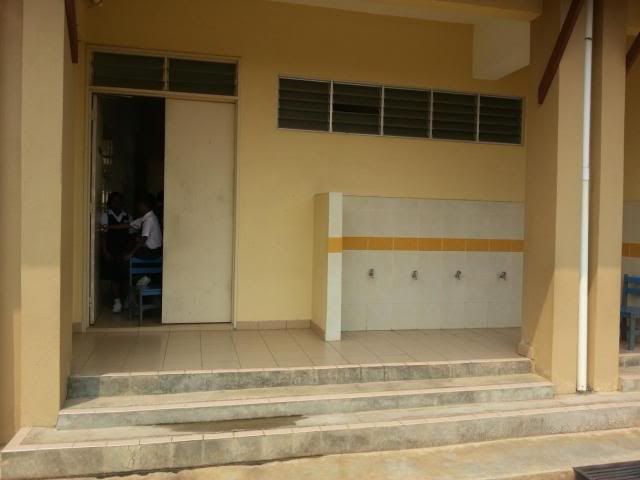 Of course, I will tell you the next course of action. Education Ministry would be contacted. State Education Department will turun to do some 'thorough' investigation. Ministers and all political dogs would be barking nonstop blaming the school for their act. And then after a few days, everything dies down and back to normal. And then another case will pop up. The cycle continues.
The next time someone does this he should be slapped with shit. Ok, kaigeleh, kalepenggel…
School details:
SEKOLAH KEBANGSAAN SERI PRISTANA , JALAN SP 2/1 SERI PRISTANA 4700 SUNGAI BULOH SELANGOR. TEL NO 03 60391594 FAX 0360391595
GURU BESAR MOHAMAD NASIR BIN MOHD NOOR